Do you know what is incredibly underrated? Access to an academic adviser. They had all the answers we ever needed! Not sure what major to choose? Meet with your adviser. Have no idea what classes you're supposed to be taking next semester? Email your adviser. Panicking because you're not sure if you will graduate on time? Give your adviser a call. Mine single-handedly got me through college, so when I graduated and realized I no longer had access to someone who could tell me my plan for the next few years and how to job hunt, I stared at myself in the mirror and thought, "Well, it's up to you now, pal." Yikes.
With college graduation comes a lot of excitement and anticipation for the endless number of opportunities ahead, but it can also be really nerve-racking to navigate the workforce for the very first time—especially when you have no idea what you're doing. So where do you start? Well, I had the opportunity to ask Corporate Content Creator and Adviser Natalie some questions about where to start as a new college grad who wants to leverage their degree, skills, and personality as they enter the workforce, and her answers are so thorough and helpful that I'm truly considering them to be the Lord's work.
Note: Natalie's tips for entering the workforce confidently are geared toward new college graduates, but they are also helpful for anyone who might be looking for a new job, switching industries, or brushing up on their interview skills.
Natalie
Corporate Content Creator / Adviser
Natalie is a content creator who offers advice on how to succeed in the workplace, all while poking fun at what real life in the corporate world is like through short videos on her Instagram and TikTok.
New college graduates typically have little to no experience in the workforce and are looking for an entry-level position. What is the best way for them to communicate their education, skills, and personal qualities on their resume and/or cover letter to make up for a lack of real-world experience?
With the newfound nature of work implementing hybrid models that allow employees to work from home, it's more important than ever to ensure your personality comes through your resume and cover letter. Video content allows employers to see your personality in a way that written skills on a resume might not. I also encourage new grads to flex their top five skills on their LinkedIn profile—which can be from previous experiences such as college volunteering or internships. LinkedIn also offers profile pronouns, a name pronunciation feature, and profile videos—all additional LinkedIn features that recent college graduates can leverage to showcase who they are and to sell themselves to potential recruiters.
Considering more jobs have become fully remote, virtual interviews are more common. What is your advice for graduates who want to stick out among candidates in a virtual interview? How is this different from an in-person interview?
While I know it sounds intuitive, you should absolutely dress for the interview. Go all out. Dust off your mom's old blazer or whip out your lucky earrings (even if you're sporting sweatpants under the video screen). Show them that this interview means everything to you, and you've brought out your best to prove it. Outside of the attire, with interviews in general, it's important to make a connection with your interviewer. Perhaps they have a framed baseball or a guitar hanging behind them. Maybe their dog peeks into the frame at one point. Work from home offers a glimpse into people's realities that we never had before, so comment on these things! Take the time up front to show that you care and that their interests mean something to you. This also applies to your own background. Do you have a pile of dirty laundry sitting on your bed or do you have a clean, organized background? If it's not feasible to create a clean space at home, throw on a virtual background that'll make you stand out. 
Where and how should new college graduates start building their professional network?
Utilize LinkedIn to connect with people and topics that interest you. For the most part, everyone is searching for connections and community—especially with remote work removing opportunities for in-person networking. Use LinkedIn to both tell your story and learn from people in the industries that interest you. I actually got my first job by connecting with people at the company on LinkedIn and meeting for coffee! For me specifically, as a content creator, once I was successful in building a following on other platforms, I realized that LinkedIn was a great place for me to focus on building deeper professional relationships and to engage with my network in a professional context about my career growth and management. 
How can Gen Z leverage social media and LinkedIn to stick out to business owners and recruiters as potential candidates?
When I started my first job out of college, I took hours upon hours of social media training warning me about the acceptable use of social media as an employee of the company. Of course, I agree with being smart about what you post publicly—I've always followed the "would I want my grandma to see this?" model, and I'd be more than happy if my grandma saw any and all of my videos. Outside of Corporate Natalie, the truth is that social media is one of the most powerful tools for sticking out as a business and an individual. LinkedIn is actually one of the most valuable platforms to showcase who you are as a professional in a truly unique, human way. It's so much more than just a place to find job openings—it also helps people expand their network, connect with mentors, create content, learn new skills, build their professional brand, jumpstart side hustles, and so much more.
A few of Natalie's top tips to make the most out of LinkedIn include:
Turn on the #OpenToWork feature, signaling to recruiters that you're looking for a new opportunity. 
Set up Job Alerts so you can be one of the first to apply for jobs you're excited about. Applying within the first 10 minutes of receiving a job notification for a new posting increases your chance of hearing back by 4x.
Tap into your network and make sure to connect with people you know and trust, like friends, family, or former classmates.
Posting regularly is a great way to foster relationships and get noticed by hirers on LinkedIn. Share a relevant article with your takeaways or ask your network for tips on a particular topic to kick-start a conversation.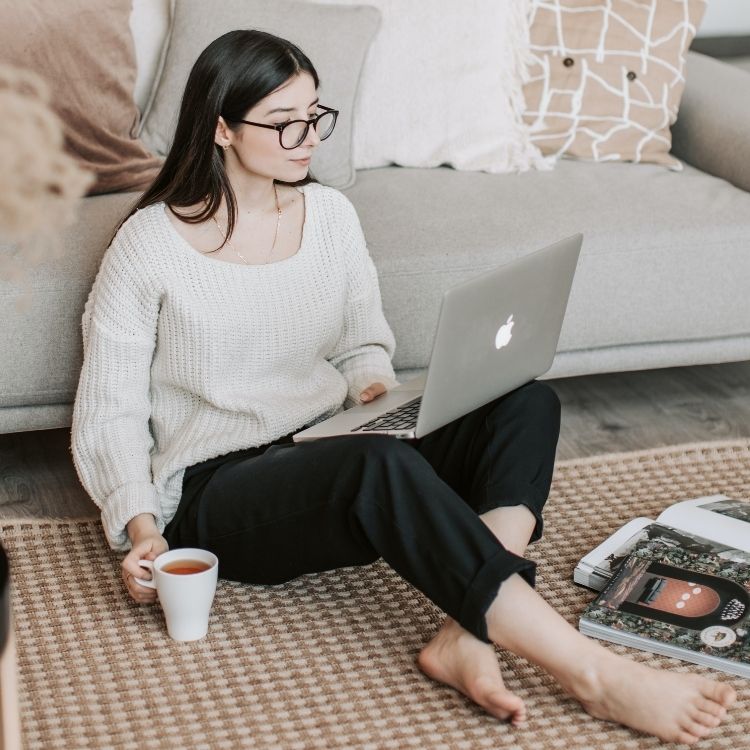 How To Manifest Career Success This Year


Source: Cosmo Politian