I remember the first time I tried a standing desk. The office I was working in had been remodeled, and every workstation got a makeover to include an electric standing desk. I'm talking about those really cool standing desks where you press a button, and the entire surface moves without needing to move your laptop or stuff (in 2016, this felt revolutionary). I thought it was awesome. This was back in the days when I worked five days a week in an office. A lot has changed since then.
Flash forward five years, and I found myself working from home at a desk I had thrifted years before. I'm not sure if it was all the day-in-the-life TikToks that flooded my feed, the months (okay, years) of working from home, or maybe everyone saying sitting is the new smoking that finally got to me, but I made the decision to purchase my very own electric standing desk. I was in search of the awe and excitement I experienced the first time I tried one, and as often comes with many purchases, I thought a standing desk would solve all my work and wellness problems.
Now, I'm about a year into using my standing desk, and I'm here to report back. Want the skinny on standing desks before you add to cart? Here's my honest opinion on everything you need to know.
My Standing Desk
Flexispot
Electric Standing Desk
Designed with ergonomics in mind, Flexispot's electric standing desk can be raised up to 47.6 inches, allowing you to sit and stand comfortably throughout your work day.
My Honest Thoughts
It takes time to get used to it
Once I put my desk together, I couldn't wait to work at it. I'd start my day standing for an hour or two and then switch to sitting for a meeting. Then, by the time 5 p.m. rolled around, I found myself still sitting. It wasn't out of laziness but because I got sucked into my work and simply forgot I had the option to stand. Some days, I wouldn't even stand at all. It took me a while to get my groove, but once I did, I found myself standing more frequently.
It's not realistic to stand all day
At least for me, it's not. If I had to put a number on it, I'd say I stand about 25% to 30% of the day. I've learned that it depends on the task I'm working on whether I stand or sit. Focused solo work: Stand. Off-camera meeting: Stand. On-camera meeting: Sit. I learned this from experience.
Early on, I took a few on-camera meetings standing and found myself shuffling my weight from foot to foot. While minimal, the swaying on the screen was distracting, especially when everyone else was sitting. So now, my best practice is to take these meetings while sitting. It's best to find what works for you based on your preferences and type of work you have on your to-do list.
Your body will thank you
As much as I hate to admit it, I'm not as young as I once was. Sitting too long during the day causes my lower back and hip flexors to ache. On the days I stand, I feel a noticeable difference in my body. I've also found that the more I use my standing desk, the more my body craves it. It's second nature now that I press the button to stand as soon as I get a little achy and antsy.
It's worth noting that when I stand more during the day, I prefer to put on a good pair of shoes for support. I also purchased a standing desk mat (like this one) to provide additional cushion for the days I'd rather be barefoot. Both of these tactics help me comfortably stay on my feet longer.
Determining if it's worth the investment is totally up to you
One thing I haven't discussed yet is cost. While standing desks have become more readily available and affordable, they're still an investment compared to a traditional desk. I purchased mine for $257 from Amazon in 2022, and personally, it's been worth every penny.
Having the option to stand throughout the day has increased my productivity, improved my physical well-being, and allowed me to focus on my body in a way I haven't historically been able to while I work. I can listen to what my body needs throughout the workday, and that, alone to me, is priceless. But if you're looking to purchase a standing desk, it's up to you to determine if the benefits you anticipate (i.e., improved health and productivity) outweigh the cost (i.e., dollars spent and how much you'll actually use it).
Long story short, I love my standing desk. I'm not sure I could ever go back to a traditional desk. I love the option to stand when I need it. I love that I can focus on my physical well-being in this new way while focusing on my work. For anyone considering a standing desk, I'd highly recommend it. I truly don't think you'll regret it.
And now that I've had my standing desk for a year, the only question is, do I splurge on a walking pad to elevate my working experience? Only time will tell.
Other Standing Desks to Try
Branch
Standing Desk
This is the standing desk in The Everygirl's Chicago home office. It's sleek, beautiful, and helps our team prioritize ergonomics without sacrificing a gorgeous office space.
Flexispot
Comhar Standing Desk
Flexispot's Comhar standing desk is our managing editor's personal favorite. It features USB charging ports, allows you to personalize the height settings of your desk, and has a drawer for extra storage.
Flexispot
Standing L-Desk
If you're in need of a little extra space (anyone else can't live without dual monitors?), Flexispot also offers L-shaped desks that give you a ton of extra desktop space.
Standing Desk Accessories to Upgrade Your Setup
Amazon
Leather Desk Pad
Add this leather desk pad to your desk setup for a mouse pad, writing pad, and drawing pad in one. It's big enough for everything you need on your desk, and bonus: it looks great, too.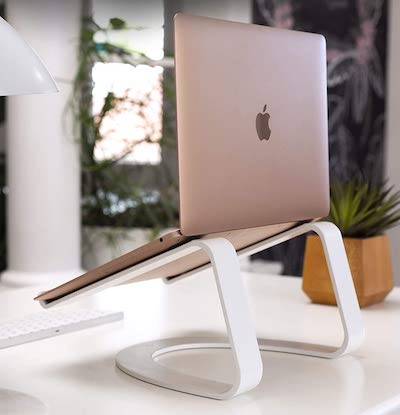 Twelve South
Curve Laptop Stand
Behold: the most beautiful laptop stand we've ever seen. The sleek, minimal design looks great on all desks and is a huge upgrade from the silver ones we're used to.
The Everygirl x Day Designer
Assorted Notepads
We partnered with Day Designer to bring you a collection of planners and notepads that help you stay organized in all areas of your life. These notepads are the perfect addition to your desktop to take notes and plan your work day.
Flexispot
Cable Management Tray
This is a must-buy if you invest in a Flexispot standing desk. It attaches to the bottom of your desk and helps keep all of your cables right where you want them: out of sight.
Flexispot
Anti-Fatigue Mat
Whether your desk is on carpet or a hard surface, you're going to want this anti-fatigue mat if you want to make sure you actually use your standing desk. Designed for comfort, this mat will support you through long standing sessions at your new desk.
Branch
Ergonomic Chair
This desk chair made our managing editor actually enjoy sitting at her desk. It features eight adjustment points, meaning it can be customized to fit your body's exact needs.
I Used an Under Desk Treadmill for a Month Straight—Here's How It Went
Source: Cosmo Politian