The Everygirl's product selections are curated by the editorial team. If you buy something through our links, we may earn an affiliate commission, at no cost to you. We only recommend products we genuinely love.
Every so often I get the urge to turn off my phone, unplug my wifi, and run away to the mountains with nothing but my books to keep me company. This tech-free life sounds wonderful and I'd be halfway out the door if it wasn't for the fact that my Kindle, a device that requires wifi, is essentially my security blanket, and my weekly screen report from Apple is proof that going internet-free isn't in the cards for me. So instead of galavanting off to a cabin in the woods, I lean into the tech products that make my life a thousand times easier. 
I literally cannot sleep without my sound machine, am emotionally attached to my standing desk, and can't fathom drying my hair without my trusty Dyson. This self-awareness is freeing. If you're ready to fully embrace our tech overlords, join me in adding the tech products I would absolutely sell my soul for (even though no one asked) to your life—I promise you won't regret it.
My Tech Favorite Products
Many of the items here aren't the most "fun" things to buy — they're no Sephora haul or brand new bag — but when I say they've revolutionized my life, I'm really not exaggerating. My favorites listed here range from smaller gadgets that are easy to tack onto any Amazon purchase to bigger ticket items I'm begging you to finally pull the trigger on.
Amazon
Sunrise Alarm Clock
I can no longer sleep well if I don't have my Hatch Restore routine going. It allows you to create a custom sleep routine that gently guides you to sleep and to wake up with soothing sounds and light that mimics a sunset and sunrise, respectively. It sounds out there, I know, but I literally sleep like a baby when I use it and the slow-building morning alarm is so much more pleasant to wake up to than my phone blaring in my ear.
Courant
Wireless Phone Charger & Accessory Tray
The Courant wireless charging products are the perfect blend of form and function. I keep the Catch:3 on my nightstand to charge my phone overnight and hold my other bedside essentials. It looks great beside my bed and an added bonus: because my phone has to lay on the charger, I can't stay up well into the night scrolling through TikTok with my phone plugged in. I can already feel my eyes becoming less strained.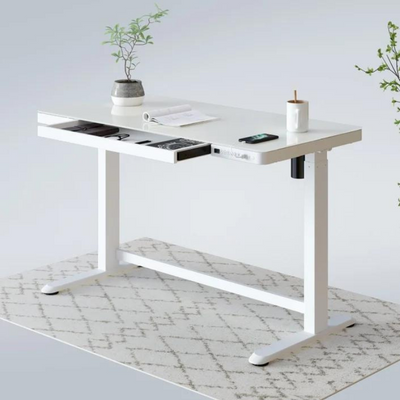 FlexiSpot
All-in-One Standing Desk
My love for my Flexispot standing desk came as a complete shock to my system. However, after searching high and low for a standing desk that was semi-affordable and not horrendous to look at, I landed on this one and now I can't imagine life without it. When combined with an under desk treadmill, it's a combination that really can't be beat.
Amazon
Ergonomic Laptop Stand
I've dedicated so much time to finding aesthetically pleasing desk accessories and have truly never seen a prettier laptop stand that doesn't cost a billion dollars. Yes, this one is a step-up from the $20 ones you'll find all over Amazon, but it's so worth it for an ergonomic solution that looks beautiful, too.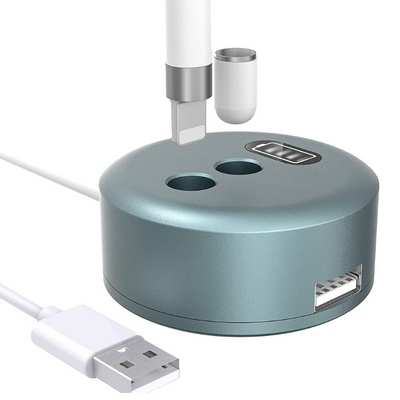 Amazon
Apple Pencil Charging Stand
Before I got this charging stand for my Apple pencil, it was always dead, which meant I never really used it and therefore never really used my iPad. As soon as I got this little stand and placed it on my desk, my iPad became my lifeblood and my Apple pencil is always ready right when I need it.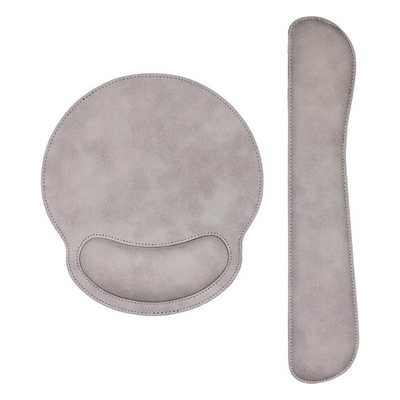 Amazon
Wrist Support Keyboard Rest & Mouse Pad
Are you tired of seeing this set on every desk essentials article we put out? I will not apologize for that because it is absolutely imperative you have this keyboard rest and mouse pad set. Your wrists will love you for using these and you won't even have to sacrifice your desk aesthetic.
Amazon
Kindle Paperwhite
The relationship I have with my Kindle could be described as unhealthy. But if it is, I don't care. I have never read so much in my life than I do with my Kindle. It is the first thing I reach for every morning to accompany my morning coffee and the first thing I pack in my personal item when traveling. If anything ever happened to my Kindle, I'd have to replace it immediately. If you're a reader who's been waffling over whether or not to take the plunge, please do it. You won't regret it.
Amazon
Desktop Webcam
If you are still using your MacBook's potato of a camera, please add this to your Amazon cart right now and click purchase. It is a massive and necessary upgrade for your WFH setup. It features a built-in ring light to keep the quality of your calls top-tier, even if the lighting everywhere else on your home is abominable.
Amazon
Keyboard Cleaner Kit
I file this under nifty, cheap products that I will 100% delete from my cart before I actually place my Amazon order. However, when this all-in-one tech cleaner did finally survive my Amazon cart purge, it became a holy grail in my desk essential arsenal. I love that I can clean all the nooks and crannies in my various devices with just one simple tool.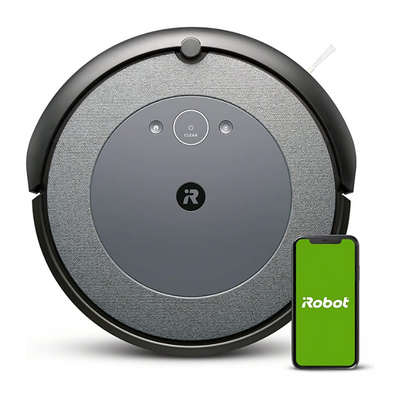 Robot
Roomba Vacuum
I hate vacuuming almost as much as I hate doing dishes, so this robot vacuum is a true lifesaver. We have it set to go off twice a week (there are three dogs in this house so that frequency is 100% necessary), and I don't even have to think about vacuuming unless I'm doing a deep clean in the nooks and crannies.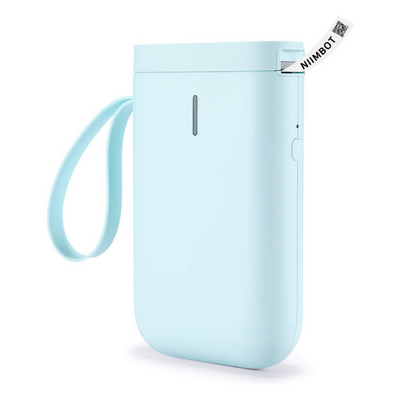 Amazon
Portable Label Maker
A label maker is the kind of thing you only wish you had once in a blue moon, but when you do need one, you kick yourself for not having one. This is your sign to finally take the plunge. This one is cute, small, and connects to your phone for easy labeling.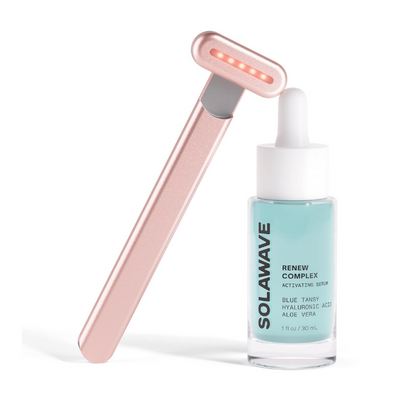 Solawave
Red Light Therapy Wand & Serum Kit
Beauty tech is a category I didn't see myself buying into, but my experience with products like the Nuface and now the SolaWave have made me a true convert. This skincare wand combines several different beauty treatments in one—microcurrent, red light therapy, facial massage, and therapeutic warmth—for the ultimate self-care experience. Immediately after using, my skin is less puffy and glowing, and long term use targets fine lines, wrinkles, and blemishes. So it's a win now and a win later.
Moft
Laptop Carry Sleeve & Stand
This laptop sleeve tops the list of things I didn't even realize I needed until I had it. This sleek leather sleeve protects my laptop when traveling and doubles as an ergonomic stand when I reach my destination, whether it's a coffee shop or a company trip. I love that I no longer have to sacrifice my beloved ergonomics when I'm working away from home. If you travel for work or really lean into that "work from anywhere" lifestyle, this is the laptop sleeve for you.
Tech Products On My Wishlist
Sure, this is a not-so-subtle hint to my family when I send them my "latest article to check out," but it's also an inside scoop for you, dear readers, at the items I've pre-deemed worth every single penny.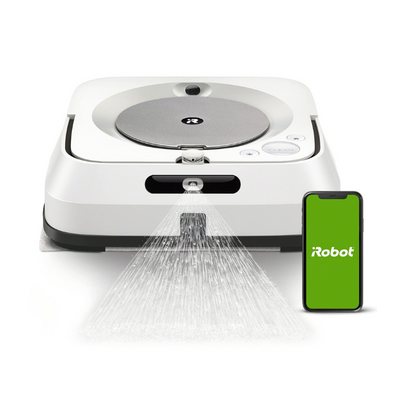 Robot
Wi-Fi Connected Jet Mop
I've already spoken about the undying love I have for my Roomba, and I am very close to taking the plunge on the mop version as well. The vacuum has made my life so much easier, especially with having pets, so I know the mop would be just as game-changing.
Samsung
4K Smart Monitor
I do not need an iMac, and definitely don't want to spend $2,000 for what is essentially a pretty monitor (nothing I do for work requires that kind of computing power). But, I still want a beautiful monitor to complete my desk. So, what's a girl to do? When I first saw this Samsung monitor my jaw dropped at how perfectly it solved my dilemma. It's the perfect upgrade to my setup and while still an investment, is much more affordable than the iMac.
Amazon
Desktop Vacuum
This desktop vacuum cleaner has yet to survive one of my pre-checkout Amazon cart purges, but it's only a matter of time before I take the plunge on this. I've seen countless videos about it on TikTok and know it'll be such a useful addition to my desk.
Amazon
Light Therapy Lamp
As a recent transplant to the Pacific Northwest, I don't think I'm fully prepared for the gloomiest time of the year, even though I love the rain. This light therapy lamp would be the perfect device to have on my desk to help me get through the cold, dark, and rainy days when all I really want is to curl up on the couch.
FARA
Compact Electric Heater
The battle between my husband and I over the thermostat is constantly raging on, but this beautiful space heater might be just the thing to get me to back off. I've truly never seen a space heater like this before, and as someone who is always cold, I know I'd get my money's worth.
Arlo Skye
Lap Desk
I love a work-from-the-couch moment, but my current lap desk has had its day in the sun and I'm in desperate need of an upgrade. This lap desk from Arlo Skye is a definite splurge, but I use my current one so much I know it will be well worth the cost. This one comes complete with a storage tray and a stand to prop up your phone or iPad—it's truly perfect for all of my needs.
16 Desk Essentials Your Body Will Thank You Big Time For
Source: Cosmo Politian