If you struggle with designing a space that is both beautiful and functional, "a designer can certainly help you strike the right balance," says Michelle Gage—owner, founder, and creative director of Michelle Gage Interiors. As someone who has built a career designing unique and intentional spaces—from her days at Anthropologie to starting her own design company—Michelle knows the benefits of leaning on an interior designer to help with styling a space. Having an eye for interior design is a true creative gift that only the lucky ones are blessed with—Michelle Gage, for one.
We have followed Michelle for years now and watched as her career has grown from her tenure at Anthropologie HQ to when she founded Michelle Gage Interiors in 2017. Five years later, Michelle and her talented team create spaces for clients that are whimsical, bold, and unique. But a growing business needs office space, so their first task was to design just that. And TBH, it's one of the most inspiring and functional offices we have ever seen (right up there with our own office, of course!).
You know we had to get all the details about the space and also catch up with Michelle about her career since the last time we spoke with her. So whether you're interested in career advice from a creative-slash-entrepreneur or you just want to know where she finds vintage rugs, we got all the details in this office tour interview for you to soak in.
Michelle Gage's Maximalist Office Tour
The details:
Name: Michelle Gage
Location: Philadelphia, Pennsylvania
Square Footage: 900 
You founded your interior design firm, Michelle Gage Interiors, in 2017—what has been your biggest lesson thus far as a business owner?
When I quit my corporate job, I kind of thought "it was all on me" and I was looking forward to being the one making all of the decisions and "making it all happen." I quickly realized that running your own business relies on so many different partners with different opinions and business needs. You simply can not do it all on your own.
Additionally, no matter how much you prepare, there will always be things outside of your control. I am Type A to a T and live by The Scouts' motto: always be prepared. While preparation is important and will get you far, it won't get you everywhere. You really need to be nimble and good at thinking on your feet. Curveballs are constantly getting thrown at you, so develop a thick skin and exercise those problem-solving muscles.
You now have a whole team of people working with you. How did you know it was time to expand and hire employees? What roles were most important for growth?
That was a question I would ask a lot of fellow business owners as I got started—and no one really had an answer for me. It's so specific to you and your individual business. I will say, for me, I knew it was time to hire when I totally burnt out—which is very hard to crawl out of. Look for early warning signs of burnout: trouble making decisions, exhaustion from simple tasks, overwhelm from your growing to-do list, sleepless nights, and most importantly…wearing far too many hats and answering to far too many people.
When I realized how many different people in different areas of my business (client, contractor, vendor, insurance, graphic designer, photographer, lawyer, accountant, etc.) I was speaking with, I knew it was time to hire help and delegate. My first hire was a design assistant, which freed me up to run the business. Sure, I had to let go of some of the design work, but I gained clarity and focus that allowed us to continue to expand.
What do your responsibilities look like on a day-to-day basis as a creative director and a leader? How has your role evolved as the company has grown?
I hate to sound cliché, but every day really is different. I could be sourcing fabric and furnishings for a new design project, meeting with prospective clients, installing a whole home of furniture, styling a photoshoot—or at my desk, answering emails, trouble-shooting issues, or, these days, reselecting a piece for a project that went out of stock after the client fell in love with it.
My role has really expanded to be more of the business owner and creative director, as I have hired talented team members to work in other areas of the business where they can shine and frankly I am less skilled.
Let's get into your new office! What did the space initially look like and what was your vision for the new design?
We started with an empty shell, but it was previously a luxury clothing store, so there were two dressing rooms that we now use as sample closets for rugs and tile. We added the wallpaper across the ceiling and down the back wall—as well as all of the furniture and lighting. We're a private office and not a public shop, but I still wanted it to be fun and welcoming for our team and clients.
Tell us about the location. What drew you to the area?
We're in downtown Bryn Mawr, close to a lot of our clients, on the main street. I have always been attracted to that area and fell in love when we found this old building to freshen up.
Walk us through the space. How is it laid out and how do you use the different areas?
There is a large center table for client meetings and design development. There's a long bank of desks on the right side and ample sample storage on the left. We have high-top tables in the back because you can never have enough surfaces for sample selections!
You once said that "not every piece in the room needs to be the star; some pieces need to play a supporting role." What piece(s) do you consider to be the star of your new office space?
I did! The stars in our studio are certainly the pink climbing floral wallpaper and the brass starburst chandelier. Don't get me wrong, the vintage rugs and reclaimed desks are pretty cool too, but I'd consider them supporting actors.
Instead of one big area rug, you layered several different rugs under the conference table for a colorful, mismatched look. Tell us your tips and tricks for layering rugs—especially when combining such vibrant colors and patterns.
So you're never going to get your ideal size and pattern all in one vintage rug. With vintage, you take what you can get! I sourced a bunch of over-dyed rugs in colors that complimented each other and the wallpaper and chose to layer them in a way that creates one larger rug.
Although the design is fun and whimsical, the office ultimately needs to serve as a working space. To that end, how did functionality play a part in the design?
Our studio is super functional—and we're always changing things around based on our sample needs at that time! The space is truly a custom fit for our storage and team needs.
The space features a mix of ergonomic desk chairs, metal stools, velvet upholstered chairs, and wishbone chairs. How did you decide on such a variety of seating throughout the office?
We chose everything based on style and comfort. Comfortable desk chairs for computer work and stylish wishbone chairs for client meetings. The leather stools are the perfect height for the high-top tables in the back.
We love that you chose to take the wallpaper up the ceiling instead of all the way around the room. What drew you to this wallpaper pattern, and how did you determine the placement?
I am very decisive. This was the only office space we viewed and that was THE ONLY wallpaper I considered for the space. It's the perfect pink for our company's branding and from one of our favorite UK vendors. It's fun and funky—but also in a concentrated area so it's not too distracting. The soffit was just white and boring, and the wallpaper keeps us inspired!
Talk to us about the art in the space. Where did it all come from and what inspires you about the ones you chose? The topiary piece above the green sofa is our favorite!
We love to display quirky artwork and either source from our favorite artists or trade vendors—always keeping it colorful! That is my favorite piece, too!
There are potted plants and vases of flowers all over the office. How do you use plants and greenery as design elements?
I literally sent my two green-thumbed employees out with my credit card to get the plants. I kill everything, but I know the value of having plant life around us in the workplace, so I left the masters to their craft.
Did you do a lot of thrifting for the space, or are most pieces new? 
Everything is new, with the exception of the vintage rugs I sourced on Etsy. I'm all for finding secondhand items where it makes sense, but in an office, everything needs to be sturdy and built well, so we needed newer pieces. This also allows us to display some of the trade vendors we use for client projects, so they can really get a feel for the quality of each piece we're recommending for their home.
Your design style is bold, playful, and full of personality. What is your advice for someone who has a similar love for color but is worried about going overboard?
Hire a designer–or work in layers! A designer can certainly help you strike the right balance. If you're going it alone, start with one piece and strategically build from there after you place it in the room.
Some people hear the word "maximalism" and immediately think cluttered or too busy. How do you toe the line between a space that feels artful and collected and one that is just too much?
It's all about the edit! Don't have anything in your home that you don't LOVE! I'm always scanning my home for items to purge.
We love your window displays! Do you change them out frequently or seasonally? How do you decide what to showcase?
Thank you! We designed them from the jump and never changed them since. We chose colors that are on-brand and resonate with our signature style. We use a lot of quirky wallpaper, jewel-toned velvet, statement lighting, and burl–all of which are on display in our windows!
How long do you see yourself in this office? Do you eventually plan on expanding?
That's always changing! Some days I think it's perfect and we'll be here forever. Other days, I feel like we need more private offices and more storage. As of today, I think we'll stay put for a bit. Ask me tomorrow and the answer will be different.
What's next for you and your company?
We're hiring more team members to be able to accommodate more projects. I'm excited to watch the designers on our team grow in their roles and allow me to focus on the business itself.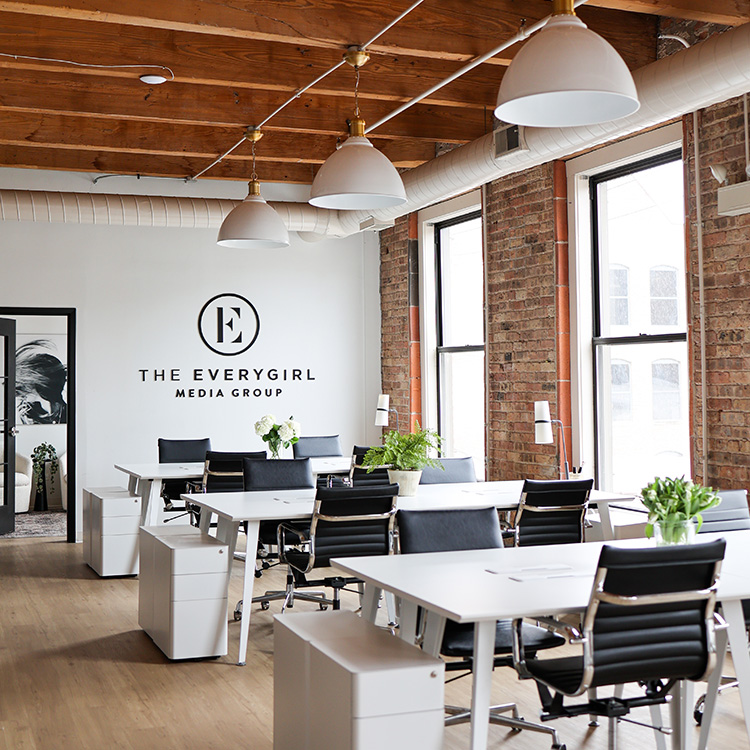 Tour The Everygirl Media Group's New Chicago Office


Source: Cosmo Politian