Prima donna Laura Mekhail captivated a Jeddah crowd on January 28 with a beautiful performance on the Hayy Jameel stage. In 2021 the Andrea Bocelli Foundation-Community Jameel Scholarship was given to the Egyptian singer. As the scholarship's initial holder was French singer Clara Barbier Serrano, Mekhail is the second winner and the first Arab woman to receive it.
The Italian pianist and composer Daniele Ciminiello, who had coincidentally played alongside Serrano in the same location the year before, took the stage with the Arab soprano.
Mekhail led her audience on a breathtaking voyage through the history of opera during the performance, performing works by Handel, Mozart, and Puccini and featuring Arabic songs like "Ana Albi Dalili" by Laila Mourad, "Sahar El Layali," and "El Helwa Di" by Fairuz. She rounded off her concert with magnificent interpretations of the English songs "Pure Imagination" and "I Could Have Danced All Night."
Mekhail and Andrea Bocelli gave the same concert on January 27 in the renowned Maraya Concert Hall in AlUla, a cultural and historic hub of the Kingdom.
Mekhail first fell in love with music when she joined a Cairo church choir as a young girl. She has sung in the Cairo Opera House, and Bach and Rossini are among the composers who have influenced her singing in addition to a number of Arab musicians.
She majored in music performance at West Virginia Wesleyan College in the US, where she participated in the cappella choir and collaborated closely with Dan Hughes, the director of Choral Activities, who she attributes with having a significant influence on her vocal growth.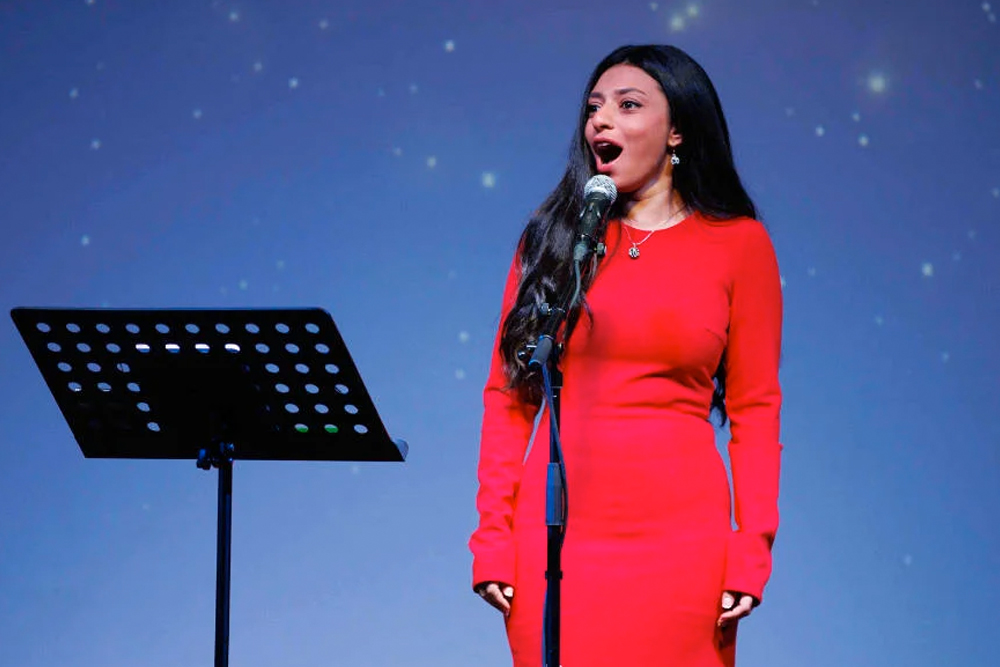 Mekhail spent six years as a singing instructor at the Chesterbrook Academy after graduating before opting to become a professional performer.
Mekhail's appearance on the Hayy Jameel stage is the most recent step in the budding musician's professional musical career. The theater balcony as well as the seating area were completely full.
The Jameel family of Saudi Arabia formed two sibling organizations: Community Jameel, which funds the scholarship, and Art Jameel, which operates Hayy Jameel. Students from all across the world are eligible for the opera scholarship. In 2019, the Bocelli-Jameel scholarship was created with the intention of helping up-and-coming artists pursue their studies in opera at the Royal College of Music in London.
Mekhail offered some words of wisdom to aspiring classical singers and budding sopranos in the region in an interview with Arab News, "You have to be persistent in your dream because it is not easy to be a classical singer, in the Middle East and abroad."
Source: Cosmo Politian