Dubai based, Saudi national, Ghaliah Amin is the plus-sized model and TV host we can't get enough of. She is the epitome of body positivity, and began her career on TV and within the fashion industry almost 9 years ago, after obtaining her Bachelor's degree in Fine Art and a Master's in Museum Studies and Art History.
Having challenged stereotypes when it comes to body image, Ghaliah used her voice and platform to launch an initiative called "Ana Ghaliah," which calls for Arab women and young girls all over the world to celebrate their bodies, to feel worthy and love themselves against the unrealistic beauty and body ideals and odds placed against them.
AboutHer.com managed to catch up with the inspirational TV host to talk about her inspirations, what makes her proud to be Saudi, what she loves about the kingdom and how she'll be celebrating the 92nd Saudi National Day…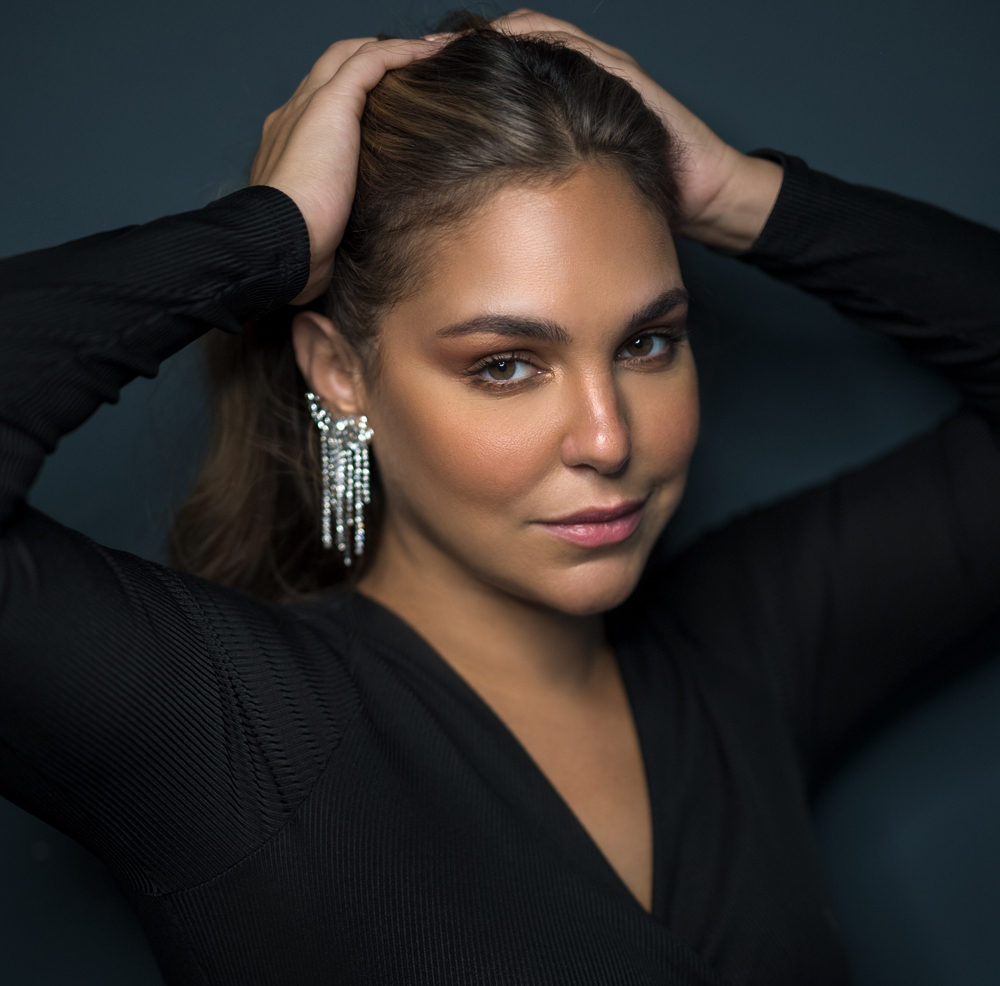 How did you get into your field of work, as a presenter and public figure?

I was offered an opportunity off the back of my success and work as a stylist and model and was selected to present a show about fashion called "Fashion Time." The opportunity made me realize how exciting and enjoyable it was to present a show.
What is it you love about your job?

One of the things I love about my job most is that I get the opportunity to meet a lot of new people every day. I also love that I get to meet young girls who I inspire to love themselves and feel happy from within.


What challenges did you face in your journey and how did you overcome them?

From the beginning, I was told that I'm too fat to present a TV show about fashion, but with the international modeling and fashion industry opening up to plus size models and creating diversity, I was finally accepted in this region as a TV host. It was also my persistence and determination that pushed me forward.
As a TV host, who has been the most inspiring Saudi woman you have interviewed?

So many! I would say Princess Moudhi bint Khaled Al Saud and Adwa al Dakheel are definitely up there.


Since we are celebrating Saudi National Day this month, tell us about what makes you proud to be a Saudi woman?

It's the people of Saudi Arabia that make me proud to be a Saudi woman, not to mention the culture and vibrant heritage of the kingdom.
Having seen the kingdom change so rapidly in the last 5 years, as a woman, how have these changes empowered you?

One of the changes I found the most empowering was the ban on driving for women being lifted. Seeing women drivers in the kingdom made me happy to see that Saudi women were being granted the freedom to explore their country on their own terms.
Who are the women that have inspired you in your life?

The women in my family! My grandmother my mother and my sisters – they were the ones that taught me never to give up on my goals and dreams.
What do you hope to see for the future of women in Saudi Arabia?

I hope see women in all fields! I want Saudi women to do whatever it is they love doing and feel passionate about.


How will you be celebrating Saudi National Day this year?

For Saudi National Day, I often try to shoot something enjoyable for TV or social media, like cooking a Saudi dish, something simple and fun.
What are your top 5 favorite things to do in Saudi Arabia?

My top 5 most favorite activities in Saudi Arabia are going to the beach, spending time with my family at home, having my pictures taken in my home city of Jeddah, taking a walk on the corniche and going out for dinner in the city with my friends and loved ones.
Finally, what words of wisdom would you like to share with our readers this Saudi National Day?

It simple: Pursue your dreams and keep moving forward. 


Source: Cosmo Politian