Nadia El Nakla, the wife of Scotland's newly-elected First Minister Humza Yousaf, made quite the impression this week as she wore a Palestinian thobe to her husband's nomination in Parliament. The thobe, a loose-fitting ankle-length garment featuring traditional Palestinian embroidery known as tatreez, holds deep cultural significance for El Nakla, who has a Palestinian father and regularly keeps in touch with her family in Gaza. Her Middle Eastern heritage has always been important to her, and she is a vocal supporter of Palestinian causes.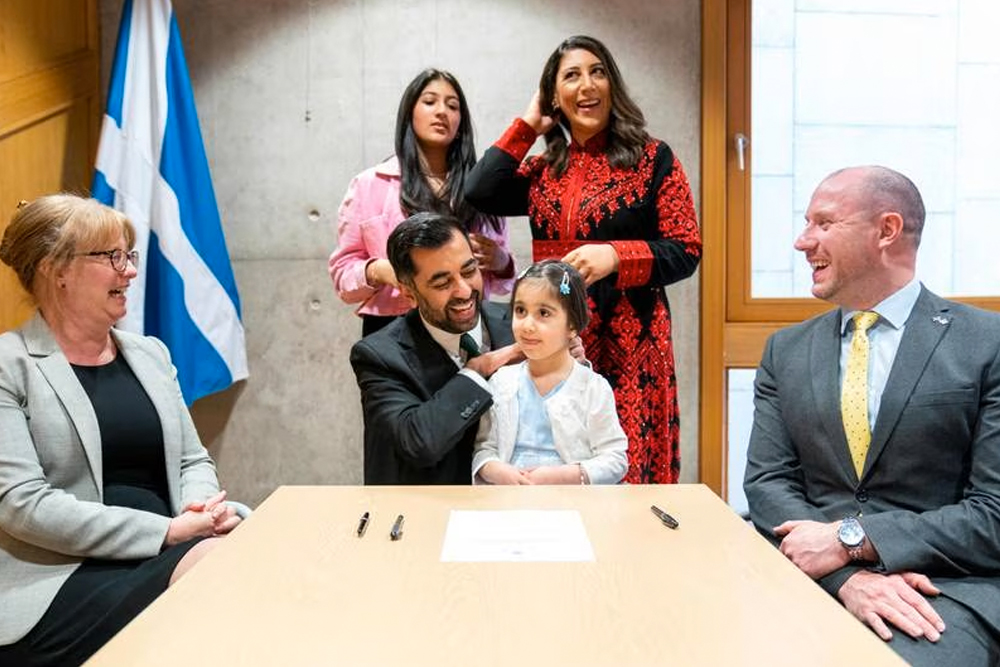 The burgundy and black thobe El Nakla wore featured intricate tatreez embroidery, a centuries-old craft primarily practiced by Palestinian women. While the thobe is considered a national dress by many Arab countries, it holds a special significance for Palestine. Not only is it a representation of where someone comes from, but it has also become a symbol of Palestinian resistance in recent years.
El Nakla, a trained psychotherapist who was born and raised in Scotland, has become a trailblazer in her own right. In 2022, she became the first ethnic minority candidate to hold the position of SNP councilor for the West End of Dundee. "I really want to take this time in the next five years to invest in women and get them into politics because in the Broughty Ferry ward I don't think we've ever seen a female councilor in I don't know how long," she said at the time.
El Nakla married Yousaf in 2019, and the couple share a daughter, Amal. El Nakla has another daughter from her previous marriage to IT expert Fariad Umer. Yousaf himself made history as Scotland's first ethnic minority and Muslim First Minister, adding to the country's diversity and representation.
El Nakla's proud display of her Palestinian heritage in the Scottish Parliament not only celebrates diversity but also highlights the importance of embracing and showcasing one's cultural identity. As Scotland continues to make strides towards greater representation and inclusivity, El Nakla and her husband are at the forefront of this movement, breaking barriers and forging a path for others to follow.
Source: Cosmo Politian