The Everygirl's product selections are curated by the editorial team. If you buy something through our links, we may earn an affiliate commission, at no cost to you. We only recommend products we genuinely love.
As a Wellness Editor and Health Coach, I get it: Wellness is confusing. Every season brings a new "weight loss pill," "magic supplement," or "miracle diet" that promises to be the cure-all to health woes. We end up spending $$$ on the next big thing that an influencer or TikTok brand promotes because we so desperately want to heal our symptoms, feel happier, get more energy, and look our best. As my job is to help you get healthier, I've quite literally tried it all–every pill, potion, app, and diet out there. Most of them did not make that much of a difference or feel sustainable enough to impact my well-being long-term. But I keep a very small arsenal of wellness products, that I've used for a long time and have genuinely made the biggest difference in my life, to recommend to readers and clients in an effort to cut confusion over what's really worth the money. 
IMO, these 10 products are truly worth the hype: a claim that I do not take lightly (the last thing I want is more women spending time, effort, and money that doesn't actually help them feel happier and healthier). My hope with this list is not to add more noise to the ever-confusing wellness industry but rather to give you insight and genuine recommendations that I have seen make a big difference to myself and other women. Yes, I believe these products are so good they could do wonders for anyone, but just remember that the body is not a one-size-fits-all pair of socks; what works for me may not work for you. Read on for the top 10 wellness products that made the biggest difference in my life in case they may help you too, and always listen to your body first and foremost. 
Bala
Ankle/Wrist Bangles
It's true: IMO, Instagram's favorite workout accessory is totally worth it. After ogling over them for months, the start of the pandemic finally convinced me I needed these dreamy weights in my life, and it changed my at-home workout game. I'm a huge studio-workout person (like, pre-pandemic I had not worked out at home once), but these have made a huge difference when I don't have time to get to a workout and can do a quick 15 minutes of pilates on my living room floor. They so seamlessly strap on, so you can wear them anytime to make anything a workout. For example, I like to wear them on my wrists when going for a walk to add in some muscle work (without even trying) and wear them on my ankles when cooking to fit in a little leg lifts while waiting for pasta water to boil–revolutionary, right?
7 colors available.
Vitscan
Motivational Water Bottle
I've now used this (and only this) water bottle for over eight months now, and I can honestly say that I've never been so hydrated (don't worry, I have three different bottles). Because it's so much bigger than other water bottles, I don't need to keep refilling throughout the day while sitting at my desk, so I naturally am drinking so much more. I drink A LOT of water, and I only need to refill this bottle once every day. With convenient time stamps, motivational sayings, and an adorable design, you'll refuse to drink out of any other water bottle too. I like to add lemon and mint because I believe we should all make our wellness routines a little sexier.
11 colors available.
Wowe
Tongue Scraper
If you don't have a tongue scraper, yes, YOU NEED ONE. My personal mission is to get the whole world tongue scraping. It's an Ayurvedic practice that has been a beloved daily ritual for hundreds of years, and there's now modern science to back it up. Here's why: Bad bacteria and toxins form on your tongue while you're sleeping, and if you do not remove them before drinking or eating, you re-ingest the toxins and bacteria when you swallow. If you still need proof, just trust me, get a tongue scraper, and see what comes off your tongue first thing in the morning—you will never be able to go without it again. Try scraping your tongue every morning (that means before your oat milk latte!) and rinsing the scraper before and after use.
Sakara
Metabolism Powder
There's not a lot of brands that make me geek out over EVERYTHING they make, but Sakara is the rare exception (like, I think I am their biggest fan). While I also use their water drops and cookbook daily, if I had to pick a must-have item, it would be this. I love the Metabolism Powder so much, it's basically my desert island product. For someone with gut issues, ingredients like L-Glutamine, black pepper piperine, and horsetail extract have made a huge difference in my symptoms. I have much more sustained, balanced energy, and I experience less afternoon slumps. If this is starting to sound a little too witch potion-y for you, it tastes like a really rich, delicious hot chocolate when you add the powder to hot water or warmed almond milk with a little honey or maple syrup—it's so delicious, in fact, that it has totally replaced my morning coffee because I prefer the taste more. The very best part is that it's only the best, most natural, cleanest ingredients—nothing you can't pronounce and no hidden ingredients.
Summer Fridays
SPF 30 Mineral Milk Sunscreen
SPF will always be a crucial part of my wellness routine. As much as I love getting sunlight, long-term exposure can be extremely dangerous to your health, and we're exposed more than we think–through windows, driving in the car, hot girl walks, etc. I strongly opt for non-toxic beauty products—especially SPF. This one from Summer Fridays is my new favorite because it uses minerals instead of chemicals to protect from the sun (safer for your health and the environment!), contains ingredients like squalene and vitamins to boost glow and skin health in addition to sun protection, and glides on so smooth with absolutely no residue.
Finishing Touch
Facial Massage Ice Roller
A confession: I run puffy. I will wake up after even the best night of sleep and not even recognize my reflection because my eyes are overpowered by severe under eye bags, and my jaw and cheekbones have gotten lost in all the puffiness. Enter: an ice roller. I've tried a lot of different techniques, but ice rolling is the one practice that I can't live without. It's an instant de-puffer, plus it takes very little time or effort (which is an automatic win for me). Ice-rolling can reduce puffiness and redness in the skin and can help boost circulation, but I also use it on my neck and temples when a headache is coming on for immediate relief.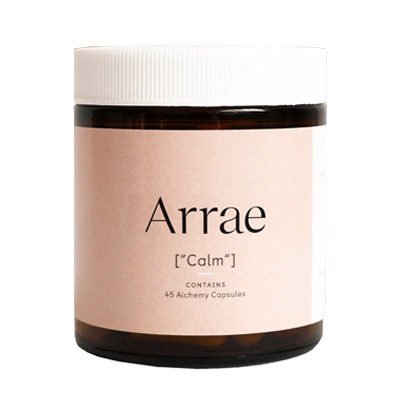 Arrae
Calm Capsules
Arrae is another brand where every product becomes an instant favorite of mine. They use only the highest quality herbs and natural ingredients to deliver powerful results. I've struggled with anxiety for as long as I can remember, and—while there's no quick fix for mental health—this supplement is such an important part of my mental health toolbox. Regular therapy, daily meditation, etc. help keep my anxiety at bay, but taking a Calm Capsule (with ingredients like magnesium and, passionflower) is one of the few things I've tried that actually works when a stressful meeting is coming up or I'm feeling extra anxious one day.
H&M
Foam Roller
My doctor first recommended I order a foam roller when I was experiencing tight hip flexors and lower back pain a few years ago, but I got lazy and did not figure out how to use it or make it a regular ritual until going to pelvic floor physical therapy at the beginning of this year. When my physical therapist taught me how to use a foam roller, it changed my life. Of course, it's great for sore muscles after a workout, but I've noticed it also can release a lot of tension and stress. Many women store stress and tension in their hips without even realizing it, causing everything from digestive issues to pain during sex. If you have these symptoms, obvi talk to your doctor for a solution that's best for you, but for me, foam rolling my hips, back, and inner thighs (in addition to physical therapy) has helped release so much tension and also relax my muscles to ease all kinds of symptoms.
8Greens
8Greens Tablets
By now, I have talked approximately 10 friends and family members into hopping on the 8Greens bandwagon. My #1 can't-live-without health product will always be whole, leafy greens (one of nature's greatest medicine, IMO). I always aim to add greens to at least two meals a day because it makes the biggest difference in my skin, energy, digestion, immune system, etc. However, sometimes we don't have access to fresh, leafy greens (traveling, eating out, going on day four of not getting groceries because you just can't be bothered). Enter: 8Greens. Made with spinach, wheatgrass, kale, blue-green algae, spirulina, chlorella, barley grass, and aloe vera, each tablet is packed with a variety of nutrients that make you feel amazing. In the form of a convenient tablet you just add to water—it's like a DIY green juice on-the-go. I also drink 8Greens when I need an extra boost of nutrients in addition to leafy greens, like if I'm starting to get a cold or feel extra drained.
Superhuman
Superhuman Meditation App
Meditation was something I knew would make a huge difference for me and was so important for my overall well-being. But try as I might, I just could not get a practice to stick. Sitting in stillness did nothing except make me feel more stressed (my mind just does not stop thinking, and then I get frustrated I can't meditate "right…"), and then it felt like such a chore that I would push off even the five minutes I made my goal. Enter: The Superhuman App. Spending $30 a month felt like way too steep of an investment, but it has Changed. My. Life—I would pay the monthly fee a thousand times over. The app contains guided meditations for any amount of time (from one minute to 45 minutes), on any subject (manifesting, reaching your health goals, improving self-love, and more). But the best part is that there are many categories for walking meditations, cleaning/running errand meditations, or even getting ready in the morning. It's transformed the way I think of meditation and has made a huge difference in my life. Also, putting money toward something has really helped me make it a daily habit because I don't want the money to go to waste!
Our Wellness Editor Swears These 9 Realistic Habits Transformed Her Body
Source: Cosmo Politian