Being an American Born Chinese, I believe I have the best of both worlds—melding Chinese customs my parents passed down to me and my sister with American traditions. Growing up, I studied American history while learning how to read and write Chinese. On my family's Thanksgiving table, you'll find the usual suspects (you know, turkey, mashed potatoes, and green bean casserole) interspersed between a Chinese version of stuffing, noodles, and a bok choy dish. 
Needless to say, I'm proud to be Asian American. And as May marks Asian American and Pacific Islander (AAPI) Heritage Month, I thought what better way to honor and celebrate our cultures than highlighting female Asian American-owned wellness brands that inspire innovation, creativity, and connection in our community and beyond. Keep reading to learn about eleven companies to support today and every day. 
When Lulu Ge went off birth control and experienced debilitating cramps, bloating, headaches, and sleepless nights, she was determined to change the narrative around menstrual symptoms as an accepted part of just being a woman. Instead of masking the pain with toxic drugs and more synthetic birth control, she turned to herbal medicine and soon after got the idea to create Elix to provide greater access to the holistic approach for menstrual wellness. Through an online health assessment, you'll get a personalized herbal treatment plan and be on your way to your healthiest cycle yet. What's more, all Elix offerings are 100% organic, ethically and sustainably sourced, and vegan and gluten-free.
With a background in bridal beauty, Brittany Lo all too often witnessed women connecting
over problems rather than accomplishments, and shielding themselves from experiencing true pleasure. Drawing from her Chinese heritage and unwavering passion, Lo established Beia, a luxury skincare meets sexual wellness line, to shatter the taboo of indulging oneself. Beauty and pleasure are not—and should not—be mutually exclusive, after all. Lo's ultimate goal? To inspire women to harness the power that comes from owning their sexuality and give them tools to feel their very best and most confident in their own skin. Formulated with sustainably-sourced ingredients (think: squalane, coconut, and aloe vera), Beia's products naturally rejuvenate the skin and body to enhance an everyday skincare routine and intimate moments alike. 
From your skin to your period, Rael has got you covered. Founded by three women from South Korea, including CEO Yanghee Paik, who saw the need for quality feminine care in America, Rael combines high-quality organic materials from the U.S. with cutting-edge Korean manufacturing technology to create clean, sustainable, and cruelty-free products for women. It's a one-stop shop for women, by women.
Unable to find a humidifier that could treat her son's nosebleeds while on the go and having struggled with dry skin herself for the better part of her life, Co-Founder Cindy Kang launched Hey Dewy in 2019. Inspired by her Korean culture of maintaining good health as top priority, she created a portable humidifier with sinus-clearing, skin-moisturizing, and germ-fighting benefits that anyone could reap no matter where they were—at their desk, in the car, or while traveling. But the impact of her humidifiers doesn't stop at improving one's skin and health—10% of every purchase is dedicated to initiatives that provide clean water to communities, such as The Water Project.
Shiza Shahid grew up in Pakistan, where home cooking was at the forefront of her culture. When Shahid emigrated to America, she saw a gap in the kitchenware market: there wasn't a brand that made products that celebrated the beauty and joy of home cooking (and actually made it easier to cook). As immigrants, her and her partner found "their place" in America by cooking and sharing food with new friends who became their chosen family. Thus, the idea for Our Place was conceived: to build a bigger table, one that would have room for everyone, an extension of community. From cookware to tableware to kitchen tools, Our Place is the foundation "for connections made across the kitchen table."
Synonymous with self-care, the act of journaling has become a wellness trend you don't want to sleep on. Enter: Silk + Sonder. In search of a tool to help her work through her feelings of anxiety and being burned out and unfulfilled, Founder Meha Agrawal discovered the transformative nature of journaling and created a subscription-based journaling model to make self-care a more joyful and personalized experience. Choose from a monthly, quarterly, or annual subscription (included in each journal are guided prompts and wellness trackers). 
Born and raised in central Seoul, Korea, Annie Chun grew up eating foods from the ocean, including seaweed that her mother would dry, roast, and serve. The idea of reinterpreting a favorite food from her childhood was the catalyst for her to start gimme. The result? The creation of the world's first USDA-certified organic, non-GMO project verified seaweed snacks. From pioneering organic seaweed in the US to her commitment to the highest quality ingredients, Annie has made gimme a top healthy, gluten-free, and sustainable snack in the US. "Good for you, good for your tastebuds, and good for the planet." Enough said.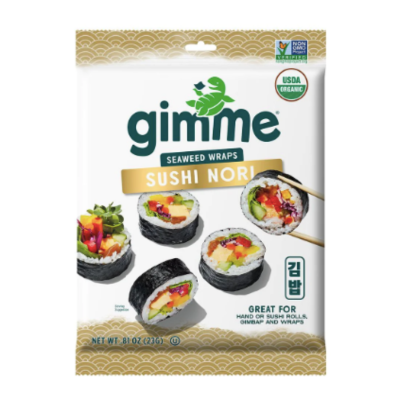 Sisters Julie and Connie Kuo grew up in the male-dominated footwear industry and set out to make a mark for themselves and other women by producing sustainable kicks made from repurposed plastic bottles. An abbreviation for authentic, versatile, responsible, and empowered, AVRE boasts a stylish collection for various types of workouts, not to mention a 3D technology that creates precise sizes, dramatically reducing waste. Oh, and did I mention their shoes are machine washable?
After getting out of a toxic relationship and going through her own healing transformation through self-care and self-love, CEO and Founder Lin Chen started Pink Moon to create a space of empowerment and abundance. Best described as a platform that marries emotional health and self-love with sustainable beauty, Pink Moon curates a unique shopping experience featuring vetted female-led brands and their eco-conscious and ethically minded goods. Talk about girl power. Browse gua sha tools, vegan lipsticks and nail polish, perfume oils, and so much more (they even have workshops!).
A cup of tea has always been more than just a beverage for Sashee Chandran. Coming from Chinese and Sri Lankan descent, she has always viewed tea as a form of connection, community, and nostalgia, bringing back fond memories of her childhood. Wanting to recreate the magic of a high-quality tea experience she grew up with without the waste of tea bags, she established Tea Drops, an assortment of bagless, organic, whole-leaf teas. Shop by tea type, flavor, caffeine level, benefit (immune support please!), and mood (can I get some stress relief?).
When CEO and Cofounder Sarah Paiji Yoo became a new mom, she was determined to find a solution to single-use plastic after learning that all disposed plastics were contaminating the water and food she was feeding her baby. Born out of the lack of household products that didn't come packaged in plastic, Blueland specializes in eco-friendly cleaning supplies that are as safe as they are effective. Their collection also includes hand soap, body wash, and laundry essentials—all sans harmful chemicals, because a clean, non-toxic home equals better health for you and the environment. 
After years of living off fast food, Julie Nguyen developed a laundry list of health issues. Not until she changed her diet did she realize the impact food can have on her health and well-being. Julie built Methodology, a weekly meal-prep service, to help people take the guesswork out of creating and maintaining a healthy lifestyle so they can focus their time and energy elsewhere. Customize your subscription based on your diet preferences, cuisine, days needed, and type of meal (breakfast, lunch, dinner, snack). The best part besides the convenience and delicious options? All the food is pre-cooked and delivered in glass jars that are picked up for recycling.
A daughter of a potter and a farmer, Shizu Okusa was influenced at an early age to appreciate and feel a connection to Earth and nature. You wouldn't find over-the-counter medicines in her household but rather hot stones and herbal drinks. But her career didn't always match her balanced upbringing. After working as a Wall Street trader for three years, she knew she was destined for more. After leaving her job and traveling abroad where she learned Ayurveda, she eventually founded Apothékary. A plant-based "farmacy," the brand offers herbal and adaptogen remedies (all organic, fair-trade, and non-GMO) for everything from skin and gut health to sleep and sex drive. 
15 Books by Asian American Authors You Need To Read
Source: Cosmo Politian