You might hear "salad recipes" and think of dull greens and boring veggies. But this roundup is not about lackluster healthy food. No, this article is for those who don't particularly like salads, who don't believe anything healthy can also be delicious, and who are struggling to keep up with a healthy diet. You see, the true experts know that the key to staying healthy is not to force yourself to eat the same dull foods like chicken and broccoli or—you guessed it—a plain salad.
The actual key to sticking to a healthy lifestyle is to turn good-for-you foods into delicious meals that you'll crave all the time (read: "salad pizza"). I quizzed some of my favorite nutritionists, doctors, and all-around wellness gurus for the salads that not only pack a nutritional punch but are also so good that they can't get enough. Read on for some much-needed salad inspo. Your meals are about to get so much more green.
1. McKel Kooienga, MS, RD, LDN, Author and Founder of Nutrition Stripped

"My favorite go-to salad is my Eggs, Beans, and Greens Salad Bowl. Salads can easily be unsatisfying or leave you hungry. This salad uses my Foundational Five system for creating a balanced meal, ensuring you're consuming the nutrients you need to support digestion, steady energy, sound sleep, clear focus, and long-term health. What I really love about this salad (aside from how easy it is to make) is the homemade dressing, which brings it all together in a really flavorful way. Get the full recipe here." 
2. Berrion Berry, Period Educator, Practitioner, and Founder of The Flo Academy

"I'm obsessed with Caesar salads, but they're not always the most nutrient-dense, so I've jazzed it up to be a lot more Flo-friendly and liver-loving. Instead of a traditional romaine for the base, I like to use kale (hot tip: massage the kale to make it easier for digestion). Swap the croutons for roasted chickpeas, add nutritional yeast for cheese, and top with your dressing. I like a dairy-free Caesar dressing made with Dijon mustard, lemon, water, and tahini. Mix it all together and it's the best of both worlds: classic but packed with nutrients.
You can also do a lot with a Caesar salad to make it your own. For example, I have recently been adding Loona Seeds (which are perfect for seed cycling) and it's taken my salads to the next level. Click here for the full recipe."
3. Dr. Mona Vand, Pharmacist and Digital Creator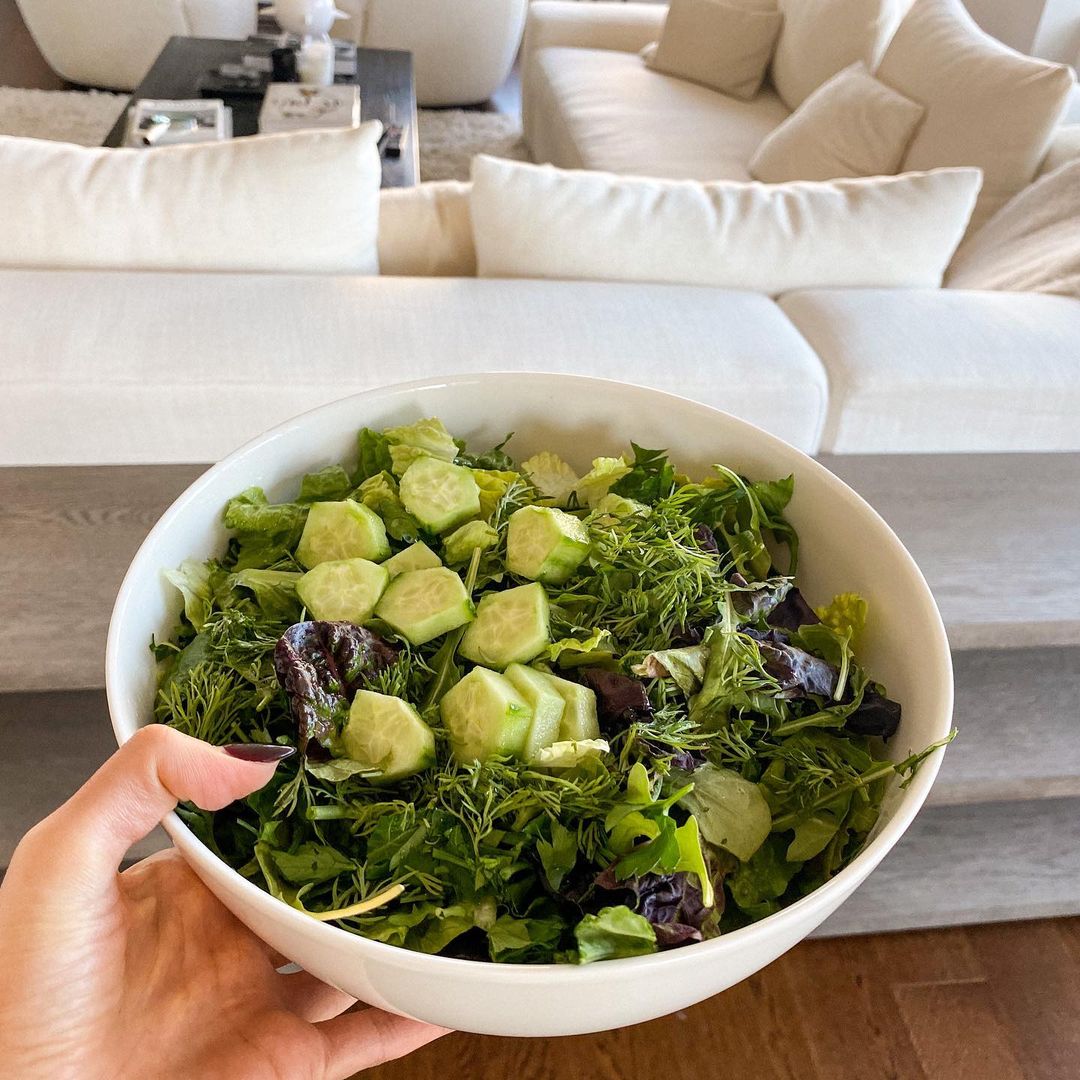 "Whether you're fully plant-based or not, getting in your raw greens just does the body (and skin) good. I have a sour palate because I grew up eating Persian food, which includes a lot of lemon, lime, and sour flavor. So this salad has a salty and sour taste—it's so yummy! Find the full recipe here and my favorite salad dressing here."
4. Dr. Alejandro Junger, MD, Cardiologist and Bestselling Author

"The Superfood Rainbow Salad is perfect for summer! It uses a rainbow of colors and is so fresh. Try this salad on its own or pair with your favorite protein. For the full recipe, click here."
5. DJ Blatner, Registered Dietitian Nutritionist and NOW Wellness Expert
"My favorite salad is a salad pizza with lemon-flax vinaigrette dressing. This super summery salad pizza is made with thin raw zucchini, arugula, tomato, fresh basil, and ricotta cheese and topped with lemon-flax dressing for a dose of healthy vegetarian omega-3 fats. Whatever salad doesn't fit on the pizza, I eat on the side. For the full recipe, click here."
"This refreshing Cucumber and Hijiki Salad is a delicious alternative to the traditional seaweed salad. It contains hijiki, which is black seaweed that is used in many Japanese soups and salads. Hijiki is revered in Japan as a food that enhances beauty and adds strength and shine to your hair. It's the most mineral-dense of all seaweeds and the highest in iron and calcium. I love this salad because it's easy to make, highly nutritious, and has the most yummy crunch. You can make it with dried hijiki, one large cucumber, half of a red bell pepper, and green onions. Combine rice vinegar, soy sauce, finely minced ginger, olive oil, red pepper flakes, sesame seeds, and salt and pepper for the dressing, and enjoy!"
7. Brigitte Zeitlin, MPH, RD, CDN, Health Coach and Founder of BZ Nutrition

"My favorite salad is the Insalata Verde from Via Carota in the West Village, NYC. It's such a simple green salad, and yet, it is so flavorful and filling. I always aim to have two to three cups of green veggies (raw or cooked), so this salad does the trick, and it is packed with filling fiber to keep me satiated. The variety of greens contains extra hydration (especially for hot summer days) and is a great source of folate for any mommas-to-be. Thanks to this NY Times recipe, I can recreate the salad at home."
"This Crispy Buffalo Chicken Salad combines a few of my favorite things: buffalo sauce, fresh veggies, and cilantro ranch. I love this salad because not only does it feature some of my favorite flavors, but the air fryer chicken nuggets also add the protein content that takes this salad to the next level. Salads that keep you full for a few minutes are a thing of the past: With the protein from the chicken nuggets, the healthy fats from the avocado, and the fiber from all of these delicious vegetables, this salad will have you feeling fueled up and energized for hours.
To make, toss air fryer chicken nuggets with buffalo sauce, and then combine chopped romaine, cabbage, carrots, diced celery, and avocado. For a dressing, pulse together Bolthouse Farms Ranch Dressing and cilantro into a food processor until well-combined."
9. Maya Feller, MS, RD, CDN, Cookbook Author
"I love this salad because the pairing of sweet, sour, and tangy flavors of in-season ripe tomatoes with peach and strawberry is just perfection. It's also quick and easy to prepare and bursting with nutrients. Find the full recipe in my book, The Southern Comfort Food Diabetes Cookbook: Over 100 Recipes for a Healthy Life."
10. Dr. Steven Gundry, MD, Cardiothoracic Surgeon and Bestselling Author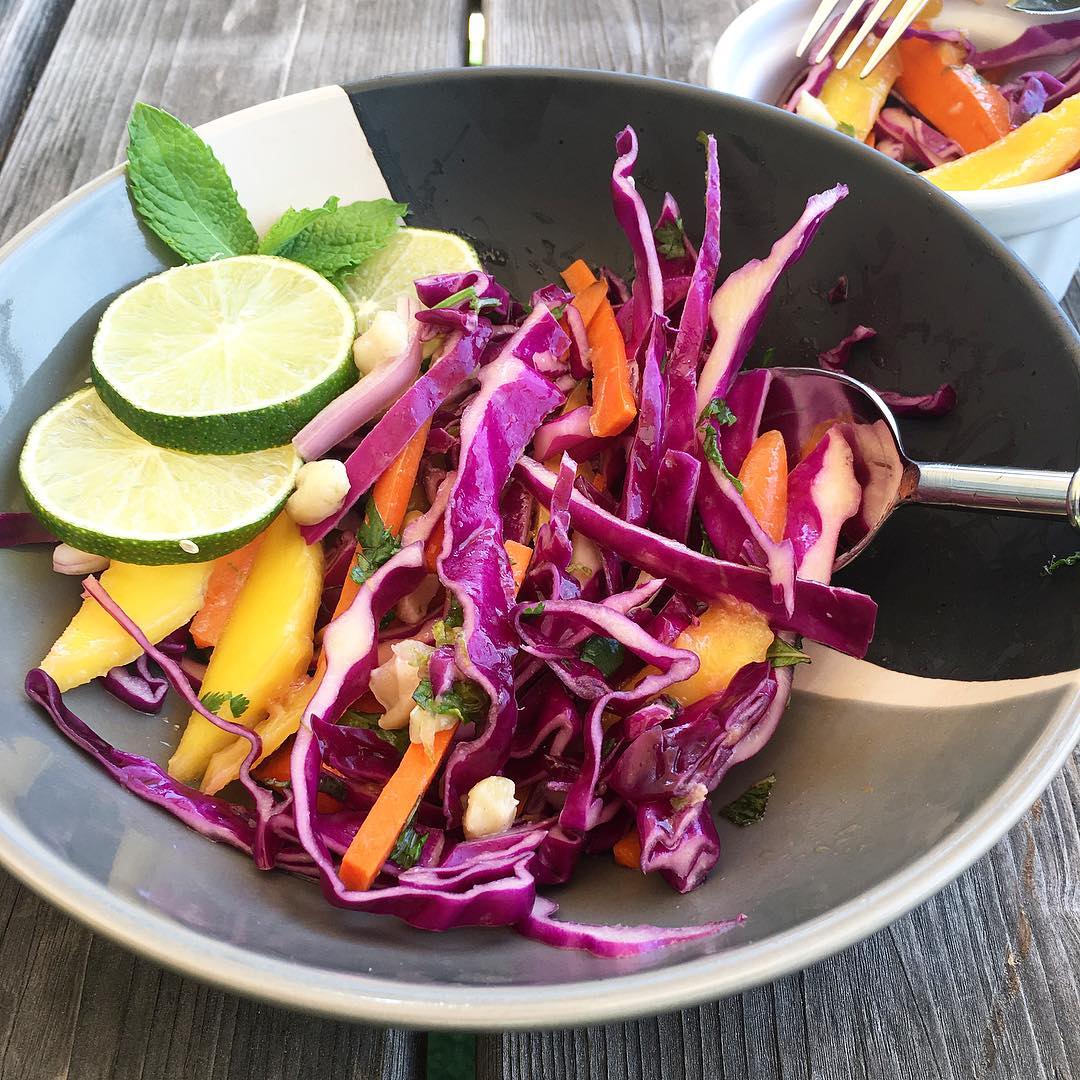 "A Green Mango Lectin-Free Salad is so fresh and tangy and has a delicious vegan salad dressing. Once you make this salad, you'll never go back to boring old lettuce and ranch dressing again. For the full recipe, click here."
"Caesar salad is one of my favorite salads, thanks to the the crunchy romaine and flavorful dressing. My go-to recipe has a delicious Brazil nut, dairy-free Parmesan and a creamy egg-free Caesar dressing. Click here to check out the recipe!"
12. Dr. Poonam Desai
"I love what I call a 'balanced' salad, which includes veggies, protein, carbs, herbs, and even fruits. I do about eight to 12 veggies (kale, spinach, onions, sugar snap peas, radishes, fennel, celery, carrots, beets, broccoli, tomatoes, avocados, etc.), a protein (chickpeas, lentils, bulgar wheat, tofu, etc.), carbs (sweet potatoes or quinoa), herbs (dill, parsley, mint, basil, etc.), seeds and nuts (pumpkin, sunflower, walnuts, hemp seeds, chia seeds), and fruit (strawberries, dried cranberries, oranges). Many store-bought dressings have added sugar, artificial flavors, and preservatives, so I like to make my own. My go-to dressing is simple: apple cider vinegar, rice vinegar, extra-virgin olive oil, a dash of Celtic sea salt, and a little black pepper."
"This Warm Salmon Citrus Salad is one of my absolute favorites because it hits all three of my salad criteria: balanced nutrition, full of hearty textures, and packed with flavor. It's a great balance of proteins, fiber, and leafy greens. You get high-quality protein from both the salmon and edamame to keep you full and satisfied for hours, and once you cook the salmon, the salad comes together really quickly. It's also versatile enough for those who are vegan, too: Swap in tofu using the same marinade or take it out completely since the edamame has enough plant-based protein. For the full recipe, click here."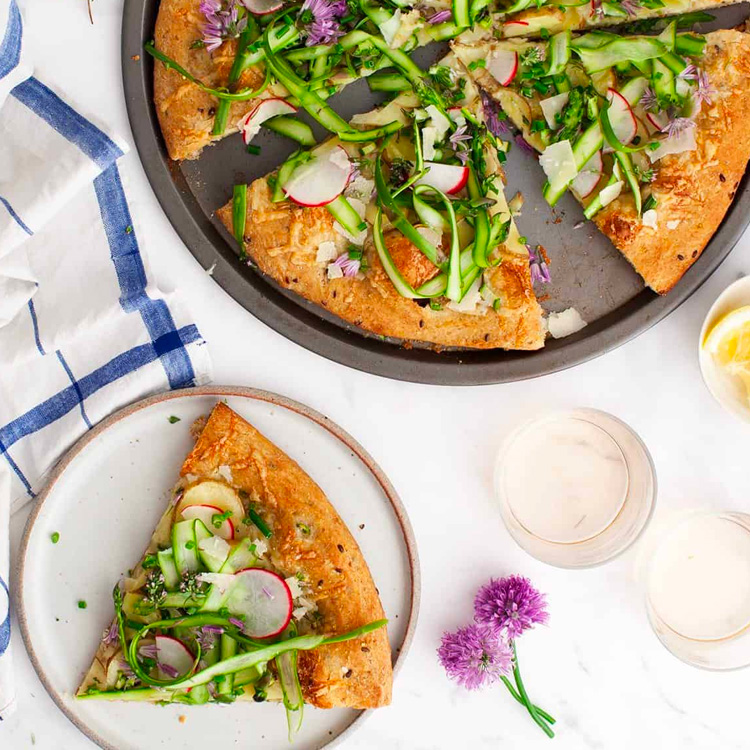 I'm a Registered Dietician–Here Are 15 Recipes I'm Making This Season


Source: Cosmo Politian