The real secret to successfully eating healthier (while still staying sane) is truly cooking at home more often. And the secret to cooking healthy at home more often is stocking your kitchen with items that make healthy cooking easier, and stocking your pantry with more nutritious versions of all your favorite foods. When a craving hits, you won't have to ignore it. Instead, you'll be prepared to DIY a meal that tastes as good as it is good for you. Stock up on these kitchen essentials that make healthy eating a breeze, and get ready for a happier, healthier you.
Equipment
Beast Health
Blender
Compact, sleek, and functional, this blender serves up the smoothest smoothies, dressings, soups, nut milks—you name it—hands down. Did I mention you can conveniently take it to-go?
Available in two colors.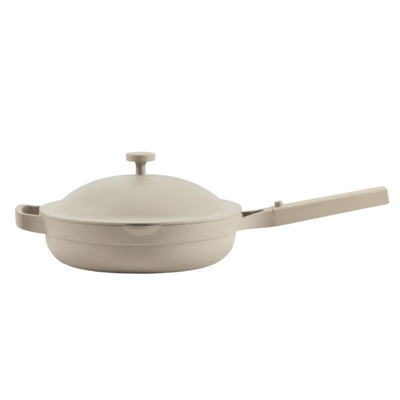 Our Place
Always Pan
Braise, sear, steam, strain, sauté, fry, boil, serve, store—there's essentially
nothing this pan can't do. Plus, it's non-stick and non-toxic, so all you have to worry about is what you're going to dish out.
Available in nine colors.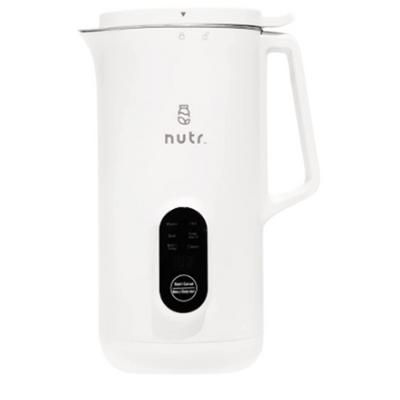 Nutr
Automatic Nut Milk Maker
If you're a real health nut, you might be having oat milk with your coffee and almond milk in your smoothies. But many of the packaged kinds are processed and full of added chemicals. Make DIYing your own plant-based milk a piece of (dairy-free) cake with this easy-to-use nut milk maker.
Available in two colors.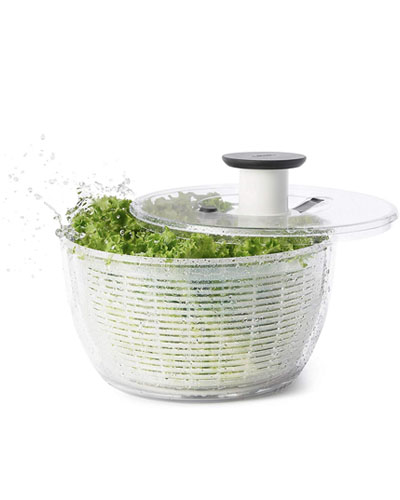 Good Grips
Salad Spinner
Greens need to be washed at home (all the dirt, pesticides, touching… yuck!), but can get soggy after washing if you use a plain ol' strainer. The salad spinner dries your greens quickly, leaving you with clean, crisp, and ready-to-use veggies.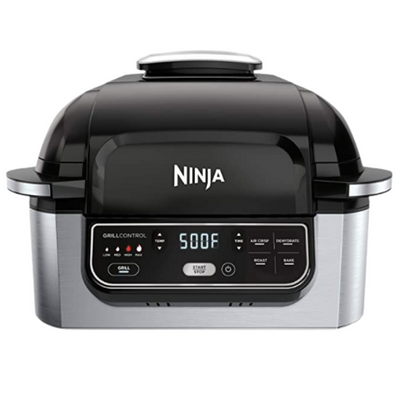 Ninja
Indoor Grill
If you haven't jumped on the air fryer bandwagon yet or you're in the market for a new one, look no further. This time-saver is not only an air fryer, but it also grills, roasts, bakes, and dehydrates. And it's on sale!
Menu Denmark
Bottle Grinders
Not your average salt and pepper shakers, these chic bottles grind more than just S + P. They also grind herbs, spices, grains, nuts, seeds, and dried fruits for more nutritious and tasty meals. Their pretty design is just icing on the cake.
Available in two colors.
Instant Pot
Multi-Use Programmable Pressure Cooker
Say hello to your other must-have, all-purpose gadget to make your weeknight dinners a pinch. Throw ingredients in the pot and set a timer for an easy-to-use and easy-to-clean way to make everything from soups and steamed veggies to pasta and ribs and even cheesecake (yes, you read that right!).
Crate & Barrel
4-Piece Place Setting
There's no denying we also eat with our eyes, so why not romanticize and zhuzh up your meals with an aesthetically-pleasing dinner set? This find sets an impressive table for dinner—whether a casual supper for one (or two) or a more formal gathering.
Available in two colors.
Organization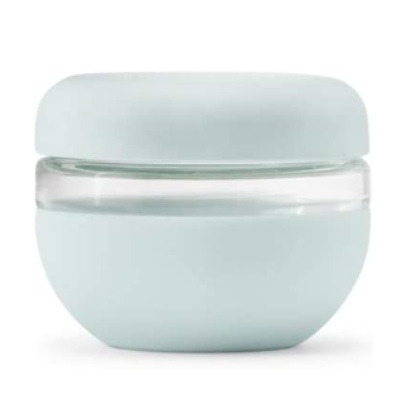 W&P
Glass Lunch Bowl Container
Get rid of those plastic containers that are as bad for your body as they are for the environment. Instead, try out these microwave and dishwasher-safe glass storage containers that will not only keep your fridge tidy (and pretty), but also won't leak toxins into your food.
Available in five colors.
Bee's Wrap
Reusable Beeswax Food Wrap
Wrap up leftovers or on-the-go meals or snacks with good-for-the-environment wrap instead of single-use plastic wrap. You probably get it by now: A healthy kitchen means healthy for you AND our planet.
Stasher
Reusable Sandwich Bag
Make plastic storage bags a thing of the past with this reusable silicone and easy-to-store alternative. Whether you use it to pack up lunch, store leftovers, or steam veggies, you won't miss your old Ziploc bags. Oh, and this gem is freezer, oven, microwave, and dishwasher-safe.
Available in multiple sizes and colors.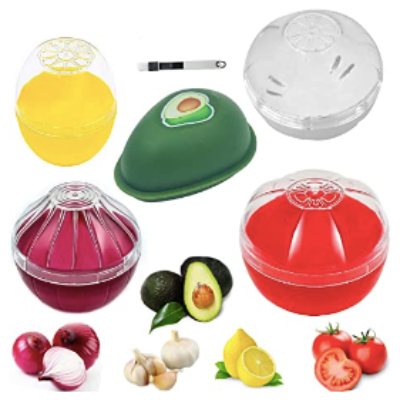 Yamesu
Onion, Garlic, Lemon, Tomato, Lemon, and Avocado Keepers
No more half eaten avocado, tomato, lemon, garlic, or onion that ends up in the trash, thanks to these finds. The BPA-free keepers extend the shelf life of your favorite produce while keeping your fridge organized.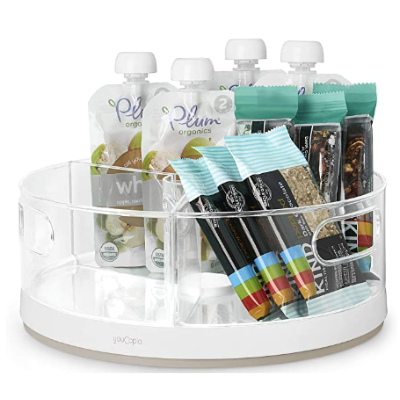 YouCopia
Lazy Susan Organizer
With this organizer, you can easily find and grab what you need—be it snacks, sauces, produce, or supplements—with a quick turn. The clear, BPA-free bins are removable, making refills and clean-up a cinch.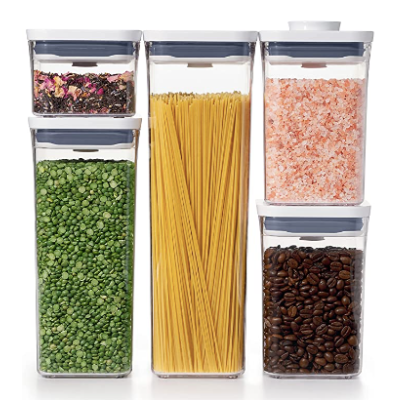 OXO
5-Piece Container Set
A healthy kitchen starts with always having good-for-you pantry staples on hand that you can use to easily and quickly whip up nutritious meals. Well, this dishwasher-safe, BPA-free, and stackable set will keep your dry foods fresh and your pantry in order.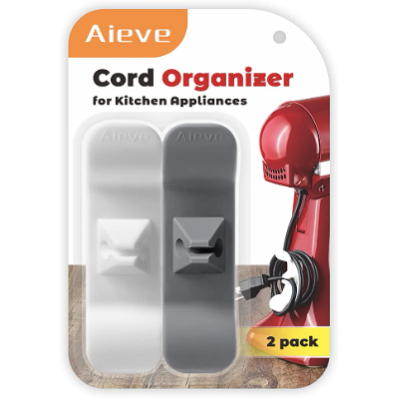 AIEVE
Cord Organizer for Kitchen Appliances
Your kitchen countertops will be free of messy, annoying power cords with these cord keepers. Simply attach them to the back of your small kitchen appliances (think: blender, coffee machine, air fryer, toaster) for a well-kept kitchen.
Cookbooks
Kathryne Taylor
Love Real Food
Whether you're a vegetarian, vegan, or meat-eater, this cookbook has something for everyone. Loaded with 100 approachable and delicious meatless recipes made with fresh, wholesome, sustainable food, it takes the guesswork out of weeknight dinners.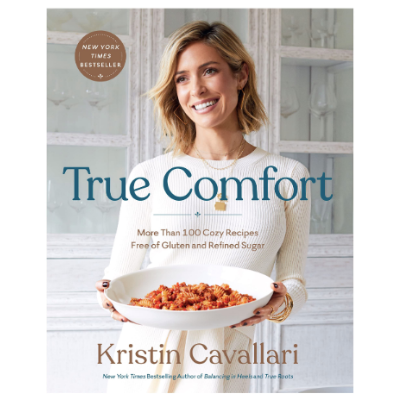 Kristin Cavallari
True Comfort
Channel Kristin Cavallari in your own kitchen when you recreate her favorite healthy, gluten and refined sugar-free comfort food recipes. What's more, she let us in on her tips and tricks to putting together a well-stocked pantry, fridge, and freezer.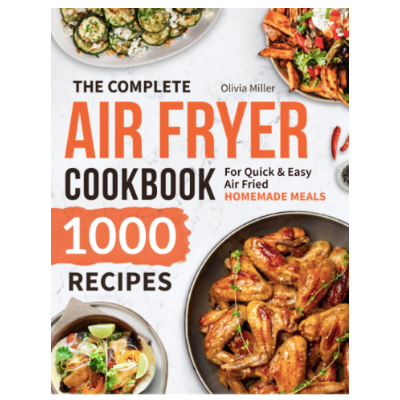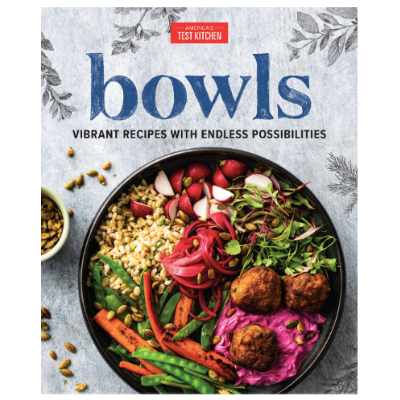 America's Test Kitchen
Bowls: Vibrant Recipes with Endless Possibilities
There's something about bowls that makes its contents that much more appetizing. With 75 bowl recipes and mix-and-match bases, toppings, and sauces, this cookbook ensures there will be no shortage of bowl nights. Seared Tuna Poke Bowl, anyone?
Toby Amidor
The Healthy Meal Prep Cookbook: Easy and Wholesome Meals to Cook, Prep, Grab, and Go
There's no denying that meal prep saves time and money, but let's face it: When we do get around to it, we often stick with the same ol', uninspired meals. Enter: The Healthy Meal Prep Cookbook. Packed with wholesome grab-n-go options for breakfast and lunch as well as quick dinners, consider your meals for the week ahead cooked and ready to serve.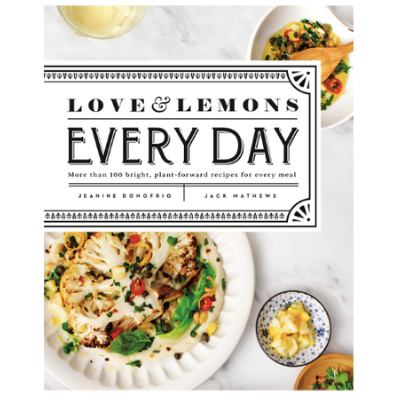 Jeanine Donofrio
Love and Lemons Every Day: More than 100 Bright, Plant-Forward Recipes for Every Meal
Known for her food blog featuring fresh recipes with seasonal fruits and vegetables as the main ingredients, Donofrio dishes out more than 100 new vegetarian recipes in Love & Lemons Every Day. Leave it to Donofrio to turn butternut squash into the tastiest creamy queso you've ever had and transform sweet potato into a smooth chocolate frosting. And ever wonder what to do with those unused vegetable parts (looking at you, broccoli stalks)? You better believe she's got a clever solution or two for that.
Ina Garten
No one does soul-satisfying dishes like Ms. Ina Garten. Sometimes you just need a hearty cheddar and chutney grilled
cheese sandwich with a side of creamy tomato bisque to warm your insides. From whipping up special weekend breakfasts and quick weeknight dinners to cocktails and dessert, it's the closest thing to having Ina cooking alongside you IRL.
Pantry Staples
Verve Coffee Roasters
Fair Trade Organic Coffee
If you're drinking a cup (or three) of coffee a day, you should know where it comes from and that it's full of all the good antioxidants sans pesticides, added chemicals, etc. This java is fair trade, organic, and made in California, so you know exactly what you're getting.
Noble Made
Classic BBQ Sauce
Don't mistake this essential pantry staple for the standard sugar-laden version. The Noble Made rendition is made with all-natural, clean ingredients (think: water, apple cider vinegar, tomato paste, and spices) and gets its slightly sweet kick from pineapple juice. Taco Tuesday, Meatless Monday, and your BBQs just got a major upgrade.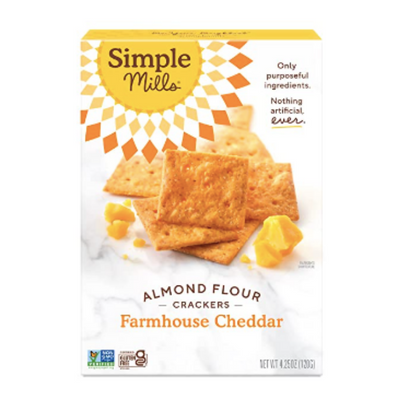 Simple Mills
Farmhouse Cheddar Crackers
When it comes to snacks, there's nothing more classic than cheese crackers. But these cleaner Simple Mills cheddar crackers get an "A" for the nutrient boost they deliver on, thanks to their flour blend of almonds, sunflower seeds, and flaxseeds, not to mention organic cheese. A winning combo of carbs, protein, and fat, what's not to love?
Palmini
Hearts of Palm Pasta
Your pasta night just got a whole lot more nutritious and exciting. This low-carb, high-fiber linguine pasta made out of hearts of palm may be veggie-based, but it tastes and looks like the real deal.
Siete
Sea Salt Tortilla Chips
Got a serious guacamole addiction? Same. Try these non-GMO, grain-free tortilla chips that are made with avocado oil and contain more fiber and protein than your typical chips for guilt-free snacking.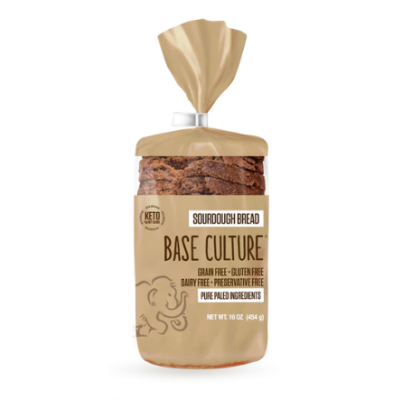 Base Culture
Sourdough Bread
The best thing since sliced bread is, well, this sliced bread, and for good reason. Made with zero artificial ingredients and a solid mix of carbs, protein, and fiber, you can't go wrong making toasts and sandwiches with this bread.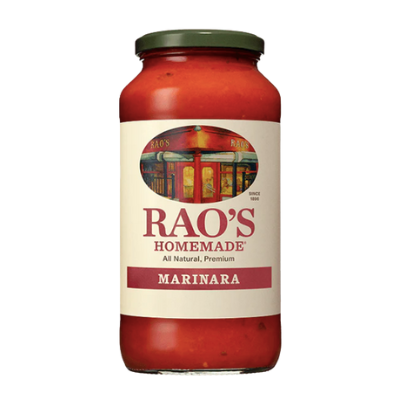 Rao's
Marinara Sauce
Slow-cooked sweet Italian tomatoes, olive oil, onions, salt, garlic, basil, black pepper, and oregano (read: fresh, whole ingredients) come together to create this no-sugar-added, classic marinara sauce. Top off the aforementioned linguine pasta, spaghetti squash lasagna, or pizza crust with it for a clean, authentic Italian meal (insert chef's kiss).
Navitas Organics
Chia Seeds
Instantly give your smoothie, oatmeal, stir fry, salad, and baked goods (I could go on and on) a protein and fiber boost with this organic, nutrient-dense superfood.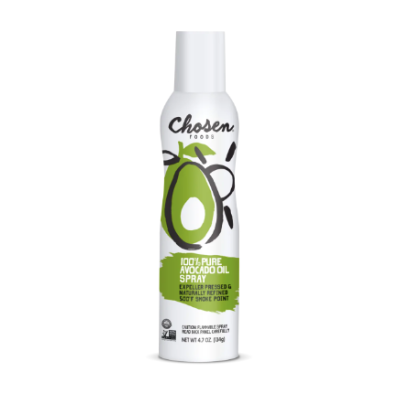 Chosen Foods
Avocado Oil Spray
PSA: Many store-bought foods and restaurant dishes are cooked with genetically-modified vegetable oils (think: canola or sunflower oil). The good news? When you have this 100% pure Avocado Oil Spray that is free of chemicals, emulsifiers, and propellant as your kitchen sidekick, you can cook, sauté, bake, dress, or broil worry-free.
14 Ways to Eat Healthier This Year Without Going on a Diet
Source: Cosmo Politian