The formal announcement of Cristiano Ronaldo as an Al-Nassr player was made last week. After amicably ending his contract with Manchester United, the Portuguese pro-footballer secured a record-breaking deal worth more than $200 million annually to play for The Kingdom of Saudi Arabia's team.
During a press conference before his visit to Mrsool Park stadium in Riyadh, Ronaldo stated: "I'm coming here to win, to play, to enjoy, to be part of the success of the country and culture in the country." He visited the grandiose stadium on Tuesday, January 3, together with fiancée Georgina Rodriguez and four of their five kids, as part of his presentation to Al-Nassr football supporters.
At the event, the well-known Saudi journalist, Fatma Fahad, presented the football star to the packed audience. Cristiano Ronaldo is reportedly "in the doghouse" as a result of his "flirty" interaction with the reporter after his Al-Nassr debut last week.
Although some social media users said Fatma was also flirting with the soccer player, her bio indicates that she is both a wife and a mother. In fact, she is currently married to dentist Abdulaziz Al-Sahaf and lives a quiet family life away from social media.
Audiences and media outlets are left perplexed and enthralled by the alleged interaction between Ronaldo and Fahad.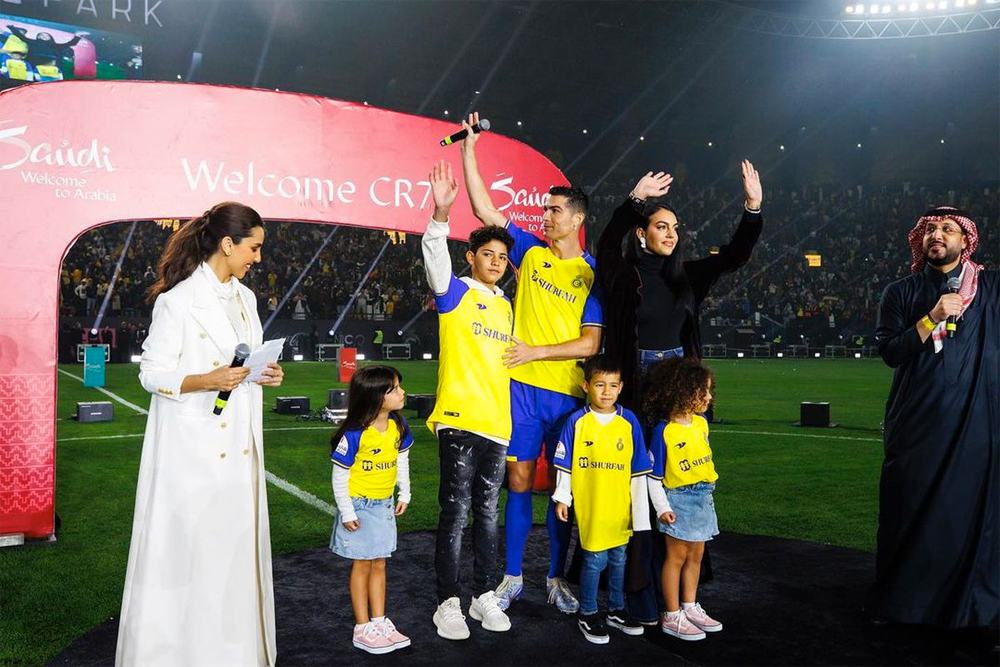 Fatma Fahad is a reputable news anchor and journalist for the Saudi television network Al Arabiya, known for her charisma and strong presence on television. In addition to having a Master of Arts in project management information systems, the pretty brunette is also fluent in English, Arabic, and German.
She impressed Saudi Foreign Minister Prince Faisal bin Farhan and Austrian Minister Alexander Schallenberg by addressing them in German during a joint news conference between Saudi Arabia and Austria last year. Fahad has always excelled, and demonstrated her work ethic as a journalist, earning the admiration of the minister and the crowd. She delivers a variety of shows as the host of Al Arabiya's news section, including updates on the Saudi Vision 2030, the Kingdom's economy, and several other significant topics.
Source: Cosmo Politian